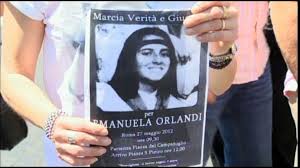 There are places in the world where people should feel safe.  One of these places is Vatican City which is a city state that is surrounded by Rome.  This is the headquarters of the Roman Catholic Church, home to the Pope, and is a location filled with iconic art and architecture.  But for Emanuella Orlandi, this place was not safe.  It was from here that the young girl vanished, and never came home again.
Welcome to Episode 50…Vanished From the Vatican.

We got merch! Shop now: https://www.redbubble.com/people/HorrifyingHist1/shop?asc=u&ref=account-nav-dropdown
Horrifying History would like to that the podcast Upper Left Corner for sponsoring this episode.  Listen to the darkest cases from the United States Pacific Northwest by finding Upper Left Corner wherever you listen to your favourite podcasts.  
Play Now