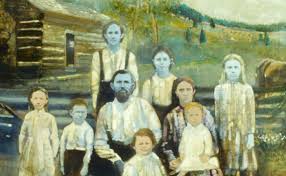 Genetics can be a funny thing sometimes.  In my case for example, I look like my mom but when I had my DNA tested I was genetically more my dad.  In the case of my niece and nephew, they both have the most beautiful shade of red hair.  Apparently, my sister-in-laws grandfather had a red beard…but no one is positive why these two won the genetic lottery with their hair colour.  
Sometimes genetics can lead to some strange things though, and in the case of a family from Kentucky in the United States - they are now famous because of it.
Welcome to Episode 54…The True Story of the Blue Fugates - A Story of Inbreeding.
We got merch! Shop now: https://www.redbubble.com/people/HorrifyingHist1/shop?asc=u&ref=account-nav-dropdown
Horrifying History would like to thank Tiki for sponsoring this episode.  Control your data by going to www.mytiki.com/history and sign up today.
We would also like to thank The Retro Video Store Podcast for sponsoring today's episode.  You can find them on Apple Podcasts, Spotify, or wherever you find your favourite podcasts.
Make sure you listen to the very end of the episode to hear the hidden Easter egg from Grizzly Naturals Beard Co. 
Follow them on Instagram @grizzlynaturals and on Facebook @grizzlynaturalsbeardco to be the very first to find out about new products and upcoming promotions.  You can also find them at www.grizzlynaturals.ca.
Play Now