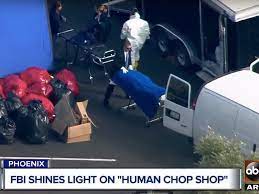 I remember one day my mom brought up that she was thinking of donating her body to science when she dies.  She said to me that she wasn't going to use it anyway, so why not?  Why not help someone?  I told her that I would support whatever she chooses, and ultimately she told me that she decided to be an organ donor and not donate her whole body to science.  People who decide to donate their organs to others are heroes.  People who decide to donate their bodies to science are helping people learn and help with studies that save lives.  
But sometimes when people decide to do this selfless act, it doesn't work out like they planned.
Now it's time for a bit of heads up, today we will be talking about human remains…listener discretion is advised.
Welcome to Episode 60 - Human Chop Shops
We got merch! Shop now: https://www.redbubble.com/people/HorrifyingHist1/shop?asc=u&ref=account-nav-dropdown
Horrifying History would like to thank the following sponsors of this episode:
The Art of Bombing Podcast for sponsoring this episode.  This show not only gives great comedy insight, but gives you a lot of laughs along the way.  You can find them at www.artofbombingpod.com or wherever you find your favourite shows.
Shadowed Stars: This is an amazing 8 book science fiction series that you can't miss.  You can order yours from your local bookstore, or from Amazon, Barnes and Noble, Google Play, or from I-Tunes.
Play Now